Concrete Pressure Washing Chicago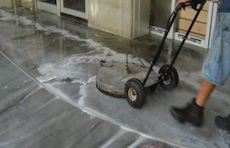 It all starts with specially blended Bio-Degradable Chemicals. We have such chemicals that will loosen anything from restaurant grease to automotive grease, mold, mildew, carbon Etc.
We then incorporate high pressure steam and special tools like the one seen in this picture.
After everything is cleaned up if you have a chewing gum problem we will melt all of the chewing gum up one piece at a time just like we have been doing for over 25 years.
Some of the items that we do concrete pressure washing in Chicago is at parking decks and parking garages, storefront sidewalks, dumpster areas, truck docks, warehouse floors and even inside restaurants and other establishments that have concrete on the inside with our water reclamation system we can get the same results we get on the outside on the inside of your establishment as well without any of the mess.
For more information or to schedule a job or estimate please call 312-384-0044